Welcome
Blue Ridge Family Dentistry provides compassionate and convenient dentistry to Maryville, Alcoa, Blount County and all of East Tennessee. Our comprehensive general dentistry approach provides a breadth of traditional dentistry including crowns, bridges, dentures, root canals, implants, cosmetic dentistry, and children's dentistry. This approach allows you as a patient to come to a single location to get most of your dental treatment needs, and eliminates excess paperwork at multiple other offices. This is to name a few of the benefits provided to you here at Blue Ridge Family Dentistry. Please look below to read more about why our dental office is the best choice for your dental needs.
About Us
Blue Ridge Family Dentistry is a full-service general and cosmetic dental practice for the whole family. We are located in the beautiful foothills of the Great Smoky Mountains of East Tennessee in the lovely community of Maryville. Doctor Molly Harriss and her team of associates provide quality, state-of-the-art dentistry at affordable prices for the East Tennessee area. Our office is easy to find near the Foothills Mall on the east side of town. We offer convenient hours and accept a large number of PPO insurances; we strive to make it easy, convenient, and affordable for our patients to receive quality, compassionate care.
When you enter our office, you'll be met with a comfortable, modern décor. Our friendly staff will greet you and offer assistance with anything from scheduling an appointment to understanding your complex dental insurance. Please take a moment to browse the section of the website and learn a little bit more about our wonderful team of doctors.
Cutting Edge Technology
The advantage of group practice dentistry lets us have the right tools, and the right time to accomplish what is needed for each patient. This includes modern low radiation and high-resolution x-ray equipment. Surgical planning software enables our doctors to virtually place implants prior to the day of surgery. Our modern crown and bridge fabrication techniques provide a durable and more cosmetically attractive restoration, all supported by our in-house lab techs who provide the best quality and aesthetics possible.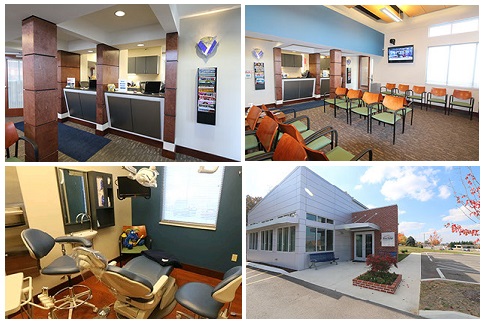 824 W. Lamar Alexander Pkwy
Maryville, TN 37801
Phone: (865) 379-7004

Fax: (865) 379-7040
Emergency: (865) 719-7004
info@blueridge.dentist