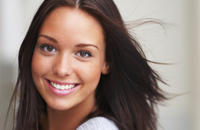 Welcome to Portland Prosthodontics
Prosthodontic Dentistry can give you a smile you're happy to show off. Modern cosmetic dentistry techniques make it easier than ever for you to have a bright, even smile.
Dr. Bray provides you the smile you want using:
dental implants restorations

teeth whitening

inlays and onlays

dental crowns

procelain veneers

dentures

partial dentures

sleep apnea appliance
Dental Implants
Dental implants are designed to provide a foundation for replacement teeth that look, feel, and function like natural teeth. The person who has lost teeth regains the ability to eat virtually anything and can smile with confidence, knowing that teeth appear natural and that facial contours will be preserved.
Dental implants are changing the way people live. With them, people are rediscovering the comfort and confidence to eat, speak, laugh and enjoy life. For more information about dental implants or to schedule a consultation appointment, call our office at (503) 230-7991.
Brian D. Bray, DMD, PC
5050 NE Hoyt Street, Suite 640
Portland, OR 97213
(503) 230-7991