Meet the Doctors

Dr. Laura Torrado specializes in designing beautiful smiles with veneers or the appropriate type of restoration needed, combining function, longevity and facial aesthetics. She graduated from NYU College of Dentistry in 1989. Her previous studies include a Bachelors of Science and a Dr. Odont degree from Uruguay. She has continued her post- graduate studies in full mouth rehabilitation, fixed and removable prosthetics at NYU.
At Buffalo State University she completed the advanced program in esthetic dentistry and is an avid participant in numerous continuing education courses both nationally and internationally.
Dr Torrado is a Pankey scholar and a graduate of the Kois Dental Center in Seattle whose curriculum includes 9 courses with the latest advances in aesthetics, implants and restorative dentistry. In 2004 she completed her certification in Invisalign Technologies and in 2005 she received her fellowship from the Academy of General Dentistry. Sleep Medicine and Facial Esthetics are also part of her practice as well as TMJ and treatment of Bruxism.
Professional Organizations
American Dental Association
Academy of General Dentistry
American Academy of Cosmetic Dentistry
American Academy of Women Dentists
American Academy of Facial Esthetics
Academy for Sports Dentistry
American Academy of Dental Sleep Medicine
American Academy of Facial Orthodontics
Community Services
Dr. Torrado has participated in the "Give Back Program " with the American Academy of Cosmetic Dentistry, Safe Horizons organization and she is currently on the volunteer panel of "The Smile Train," "Lamp Charity" and "Reaching U Organization."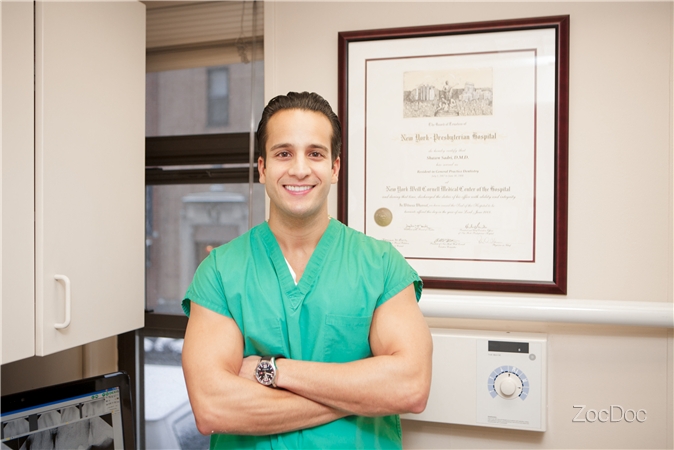 Dr. Shawn Sadri is a lifelong resident of New York City graduating from Rutgers School of Dental Medicine. He completed a residency at New York Presbyterian-Weill Cornell, training in general and cosmetic dentistry. He is curently the Vice President of the New York Academy of Cosmetic Dentistry.
Dr. Sadri has wide exposure to various fields in the profession has included treatment for porcelain veneers, bondings, crowns, bridges, onlays, dental implants, Invisalign (invisible braces), fillings, and emergency care. He specializes in cosmetic dentistry and complete makeover smiles.
Dr Sadri has trained with some of the most respected cosmetic dental specialists in the field and has attended what many regard as the top dental institutions in the world. He combines his knowledge and experience in cosmetic dentistry with his artistic skille to produce beautiful smiles.
His philosophy is to create a smile that reflects who you are, one that achieves your goals and enhances not only your teeth, but also your self-esteem.