Meet the Doctors
Dr. Bruce C. Toillion DDS, MSD
Dr. Bruce C. Toillion has been practicing pediatric dentistry for over 30 years. His vision for pediatric dentistry has been an asset to the Spokane community and its children; in fact, many of Bruce's former patients now take their own children to Dr. Bruce and the Children's Choice. Dr. Bruce grew up in Eagle Grove, Iowa. He attended the University of Iowa School Dentistry before joining the United States Air Force. He was stationed in Wiesbaden, Germany where he and his wife, Arneda, lived. When they returned to the United States, Dr. Bruce went on to receive specialized training in pediatric dentistry at the University of Washington Children's Hospital. Dr. Bruce and his wife liked Spokane and decided to make it their home.
Dr. Bruce is a board certified pediatric dentist, which means he has passed the boards in this specialty, adheres to rigorous continuing education requirements, and maintains the highest standard of practice as delineated by the American Board of Pediatric Dentistry. In addition to being a member of the American Board of Pediatric Dentistry (AAPD), Dr. Bruce is a member of the American Dental Association (ADA), Washington State Dental Association (WSDA), Washington State Academy of Pediatric Dentists (WSAPD), and the Spokane District Dental Society (SDDS).
Dr. Jessica Toillion DDS
Dr. Jess received a Doctorate of Dental Surgery from the University of Iowa. She earned her undergraduate degrees from the University of Iowa in Biology and from the University of South Dakota in Psychology.

Dr. Jess is originally from Audubon, Iowa. She relocated to Spokane with her husband, Dr. David Toillion, a native of Spokane and a pediatric dentist in Spokane. They have 5 beautiful children.


Dr. Alicia G. Burton DDS
Dr. Burton received a Doctorate of Dental Surgery from the University of Michigan and her undergraduate degree from Ohio Wesleyan University. Dr. Burton was born and raised in Northern Michigan and moved to the Northwest a few years ago with her husband, Jonathan. Dr. Burton and her husband recently welcomed a beautiful baby girl, Hadley Blake, to their family. They look forward to raising their family here and calling the Northwest home for many years to come.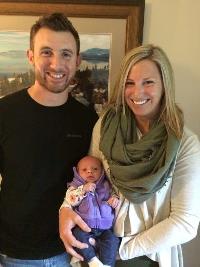 123 Brower Box 10
Medical Lake, WA 99022
(509) 299-5171