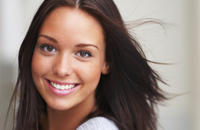 Welcome
Joseph Hyde DDS specializes in beautifying smiles, maintaining your dental health, and helping you improve your appearance. Our experienced and friendly staff takes great pride in keeping your smile beautiful. Our promise to you is that the veneers, fillings, crowns, and bridges we create will look as good as or better than the teeth nature gave you. And to make sure we keep that promise, the products we recommend and use are the highest quality and incredibly durable. You can trust your smile with us.
Due to the Coronavirus we have voluntarily suspend nonessential or non-urgent dental care for 21 days beginning March 16, 2020.

What does this mean? From now until after this pandemic has peaked, we are on emergency-only status. The goal is to preserve Personal Protective Equipment (masks and gloves) and protect our patients and staff from the Coronavirus. NO CLEANINGS OR PROPHIES will be performed on patients who do not have an emergent periodontal problem. We will NOT start any crowns, fillings, etc., unless it is the only way to relieve pain. NO orthodontic cases unless it is an emergency. NO cosmetic procedures. NO treatment of patients in high-risk categories.
2233 Seneca St
Buffalo, NY 14210
(716) 823-2898